Why choosing the right strap size is important
Taking into account the closed format, it will be necessary to be very precise when choosing one of the 9 sizes in which these new braided Solo Loop and Solo Loop straps will be available. If you choose a size too large, the watch will be too loose, it will not be accurate in measurements of heart rate, blood oxygen level or sleep quantification, so the Apple watch it would lose a large part of its functions.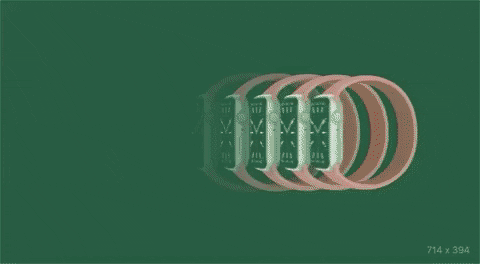 If, on the other hand, they choose one that is too small, it will be difficult for you to put the watch on your wrist, you will suffer too strong pressure on your hand and both the clamping system and the strap itself will suffer every time you try to remove the watch.
How to choose the right strap size?
With the idea of ​​avoiding problems when choosing the right strap size for each user, Apple has posted a document on its website Pdf that users will need to print at home to use it as a template. This document has the silhouette of a strap and some numbering, so that by cutting out said paper strap, we can get an idea of ​​the exact measure we will need.
All you need is to print the document 100%, and since it is a PDF file, you shouldn't have any problems doing it. To make sure you completely, you will only have to place a credit card or your personal identification card (DNI) in the silhouette that appears on the side of the strap to check that the printed size is correct.
The credit card may not match the silhouette 100%, but if it fits by one or two millimeters, it will suffice. With this check, you can now cut the strap and take it to your wrist to find out what size strap is the one you need. To do this, surround your wrist with the paper tape that you created with the cutout and adjust it until it is very firm. It will be there when you have to check what number the two arrows on the template mark. Knowing the number, you will only have to go to the physical store or the online store to order your strap with the correct size.
What if I don't have a printer?
Another option that you can also consider is to use a tape measure to measure the contour of your wrist. Depending on the circumference that you obtain, the company's website will result in one size or another, so check the perimeter well and find out what size strap you need for your day-to-day with the Apple watch.